Our History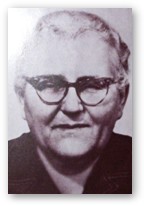 In 1940, Cornelia Schnurmann, the daughter of a wealthy, well known philanthropic, Jewish family faced deportation. For years Miss Schnurmann had dedicated her life to the aid of the needy in her hometown, Karlsruhe, in Southern Germany. A Catholic friend assisted her escape to Luxemburg where she found refuge from Nazi Germany in a convent and was given shelter by the Catholic Nuns. However, her entire possessions were confiscated in Germany. In Luxemburg she performed menial occupations until her immigration to the United States could be arranged. The middle aged German-Jewish refugee came to America on August 20, 1941 with $2.50 in her pocket and a small suitcase of personal belongings. During the voyage to America on the Spanish freighter, Marques de Comillas, Cornelia, in reverence to the caring acts of kindness she had received, performed many Good Samaritan acts. Cornelia often gave her food rations to others, tended to the sick, kept the children busy and buried those who did not survive the voyage.
Miss Schnurmann, age 40 and unmarried, did not leave a family behind. She was the sole surviving member of her once affluent family. She aspired to a mission of helpfulness in the United States, her land of refuge. In America, she worked as a cook for a New England family, then as a housekeeper in a small children's institution, until she joined German friends in Cleveland, Ohio, Dr. Julius Weil, the director of Montefiore Home for the Aged, and his wife Helen, who headed the social services department. At Montefiore, Cornelia worked with the Weils' in developing an occupational therapy department and a sheltered workshop as well as developing therapeutic, innovative programs for the aging population.
After World War II, Cornelia Schnurmann's circumstances changed favorably. The German Government made restitution for some of her financial losses. In 1947, she purchased a farmhouse in Chesterland. Now, Miss Schnurmann would be able to assume a life of leisure and comfort. But no such plan entered the mind of this charitable person. She retained her simple position and aided - unbeknown to anyone - many a desperate person with assistance for everyday needs, medical requirements, and educational pursuits. Weekly, Cornelia invited Montefiore Home residents to her beautiful rustic farmhouse for relaxation, dining and entertainment. This provided an opportunity for the older men and women to spend a joyous summer day away from institutional surroundings out in the country. In July, 1960, on the way home from one of these visits her car was struck by a drunk driver and she was killed.
In her will she remembered friends and people in need. She asked Dr. Julius Weil to serve as executor and administrator and to use the residue of the estate to create housing for the elderly - a dream Miss Schnurmann shared with him. In keeping with conversations between the Weils' and "Nellie" Schnurmann before she died, housing for older persons was to be interdenominational, affordable, and provide an atmosphere and opportunity for caring, support, participation, creativity, productivity, giving, and interrelationships.
For six years, Dr. Weil searched for and evaluated several existing buildings in the greater suburban Cleveland community. Finally, he found an almost completed three building complex in Mayfield Heights. One building was to be sponsored by the Lutheran Home, one by the Catholic Charities and the third by the Schnurmann House. Because the Catholic Charities was not able to participate, the Schnurmann House took over sponsorship of two buildings. At the time this was the only interdenominational sponsored senior housing in the country.
Funding for Schnurmann House was through the US Department of Housing and Urban Development (HUD) $2,752,000, 3%, 50 year loan. Cornelia Schnurmann's dream became a reality with the creation of Schnurmann House.
Today, Luther House is owned and maintained by the Lutheran Home and the other two buildings are owned and maintained by Schnurmann House. The Schnurmann-Luther Social Center, the setting for social activities and the nutritional lunch program, is owned and operated by Schnurmann House.